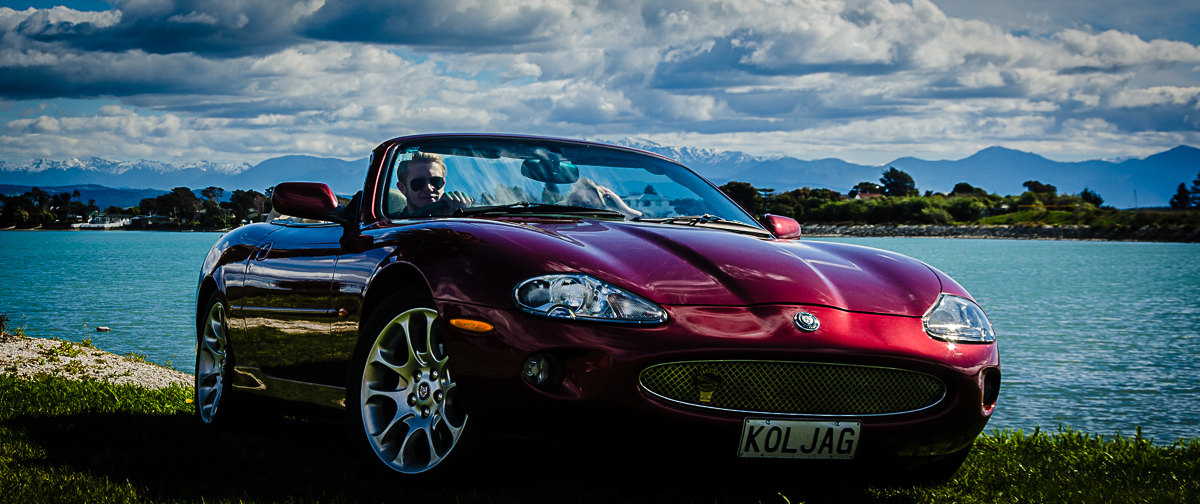 Our genuine customer comments on driving this classic below....
"Brilliant experience. Recommend a trip to Mapua. Great way to feel special for a day. Wear sunscreen!"


"Loved 'owning' this beautiful car for a week. The elegance, power and style make it a pleasure to drive anywhere. Thank you!"


"See the wonderful South Island in a beautiful car. What an absolute joy! We'll be back." 'There's no sensation to compare with this. Suspended animation, a state of bliss.' (circa Pink Floyd 1996)

"Fantastic experience - the only difficulty was handing the keys back!"

"A true gent a master GT what a great way to see the country, thank you. We had an awesome trip and the jag was amazing a true GT. I can't recommend your service more highly."
What's she like to drive?
You don't so much drive as pilot our Jaguar XK8 convertible, but don't be intimidated, the car is surprisingly easy to handle….slowly or quickly. It has cruise control for lazy cruising and sports mode on the automatic gearbox if you fancy a more invigorating response, but there's nothing like a Jaguar V8 under the bonnet to give you a quiet confidence.
What do I need to get used to?
Feeling like a cat that got the creme de la creme or being mistaken for minor royalty….well you are to us anyway. Actually the handbrake is a little unusual but we'll show you how to master that without the assistance of Jeeves. There are so many buttons to press we haven't quite worked out what they all do yet either, but we know the important ones….like the fuel cap release. With the 4.0 litre V8 you'll probably be using that one a bit more than your average rental car….but with a power soft top, walnut dash and ivory leather seats this is so not your average rental car now is it?
What about safety and reliability?
ABS, air bags, traction control and a presence in the rear view mirror that smoulders 'out of my way little car' should see you through most eventualities. She's regularly serviced and has to pass the Certificate of Fitness (CoF) test required for rental cars every 6 months……but let's just say everyone at the test centre reckons she's a very fit car anyway.
What condition is she in?
Very good. As if the normal Jaguar luxury wasn't enough this particular Jaguar XK8 convertible has add ons from German performance specialists Arden, including exhaust kit, mesh grille, special alloy pedals and 18″ wheels. That's in addition to the high specification of electric mirrors, heated memory seats, auto dim rear view mirror, cruise control, and climate conditioning.
How much luggage can fit?
A cavernous cellar, sorry boot awaits you, enough for several cases of Merlot….sorry 2 good sized suitcases plus holdalls. Please refer to the Seating and Luggage tab above for exact dimensions. There's also plenty of room for extras on the rear seats as we only rent it out as a 2 seater, (they're just too impractical unless you have a couple of seven year olds).
How fast will she go Mister?
It's a Jaguar, don't provoke it….
How would a certain Mr Clarkson describe it?
"Like sitting in Blenheim Palace…."
And the RentAClassic description for the Jaguar XK8 convertible?
"Or Nelson Manor, or Downton Abbey….wherever you are you'll be purring….but ready to pounce anytime…"
Our premier luxury offering, the Jaguar XK8 convertible is a vehicle of power, presence and panache to eat up the miles or just waft effortlessly around in. The V8 engine has power to spare and is only intrusive when you demand it, accompanied by a classic luxury British interior that you do not so much sit, as reside in. Surely one of the most pampering and desirable cars for hire in New Zealand.